What Does TPMS Mean?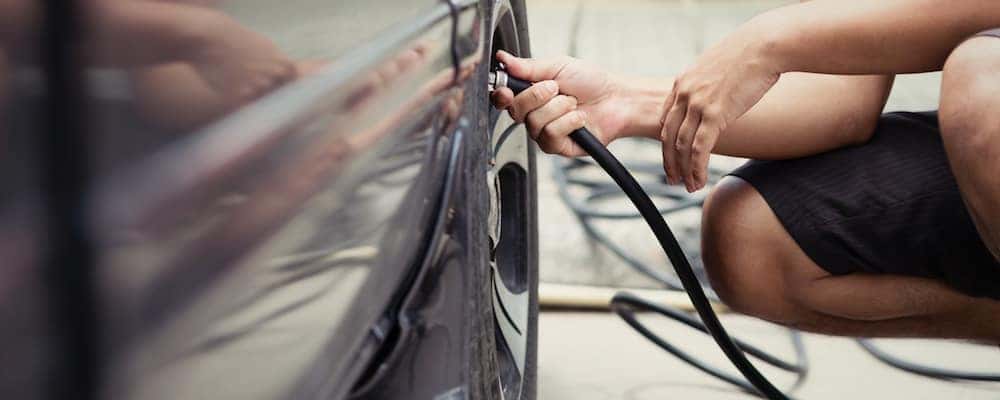 If you've seen TPMS on your car's dash in your owner's manual, you may be wondering, "what does TPMS mean?" TPMS means tire pressure monitoring system. This system uses sensors to measure the air pressure inside your Jeep Cherokee's tires. If the tire pressure is too low, you'll be notified via lit and/or flashing lights. TPMS isn't as sought-after as features like backup cameras or collision mitigation warning systems, but it's just as necessary as other passive safety systems.
Why is Your Tire Pressure Monitoring System Important?
Your Jeep's tire pressure monitoring system was designed to protect your tires — and your tire investments. If your TPMS is flashing its lights, it means your tires are underinflated. Poor tire inflation can cause the following problems:
Excessive tire wear
Poor traction
Decreased load-carrying capability
A flat tire or blowout
Proper tire inflation helps keep your tires in good health for longer and makes driving around Conway safer for you and others. Additionally, a TPMS tracks tire pressure for you, so you don't have to remember to do manual checks.
Benefits of Proper Tire Inflation
If your vehicle's tires are over- or under-inflated, you can drastically reduce their lifespans and make them less effective on the road. However, if your tires are inflated according to the proper guidelines, you can expect:
Reduced tread movement for longer tire life
Reduced rolling resistance for greater efficiency
Increased water dispersion, decreasing the chances of hydroplaning
What's the proper tire pressure for your Jeep Renegade or Wrangler? Check your owner's manual to find out! You can also ask one of the certified technicians at Myrtle Beach Chrysler Jeep's service center near North Myrtle Beach.
Keep Your Tires in Great Shape with Myrtle Beach Chrysler Jeep!
Need additional services for your vehicle's tires? Our service center can help! We're always offering specials and coupons on tire care and other essential auto services for Surfside Beach drivers. Don't hesitate to contact our service department with any questions about your Jeep's tires or TPMS. For more content like this, check out our guide that details differences between sunroofs and moonroofs.
More from Myrtle Beach Chrysler Jeep
The Jeep Wrangler already has a reputation among Conway drivers for its unmatched off-road capabilities. However, new drivers are learning quickly that the Jeep Wrangler interior comes with not only plenty of space and technology for those rocky trips, but plenty of Jeep Wrangler cargo space too. Explore the Jeep Wrangler cargo space, and…

The 2021 Jeep Grand Cherokee is quickly becoming a popular choice among many Conway families. It provides an exterior design that's both sophisticated and athletic, making it look like nothing else on the road. But, what really makes the new Jeep Grand Cherokee shine is its interior. New Jeep Grand Cherokee InventoryContact Us…

If you're getting ready to shop for your next Jeep around Surfside Beach, you might wonder what colors does the Jeep Grand Cherokee L come in. For the 2021 model year, there are plenty of available different Jeep Grand Cherokee color options to suit any sense of style. Check out the interior and exterior hues below,…