How to Do a Tire Rotation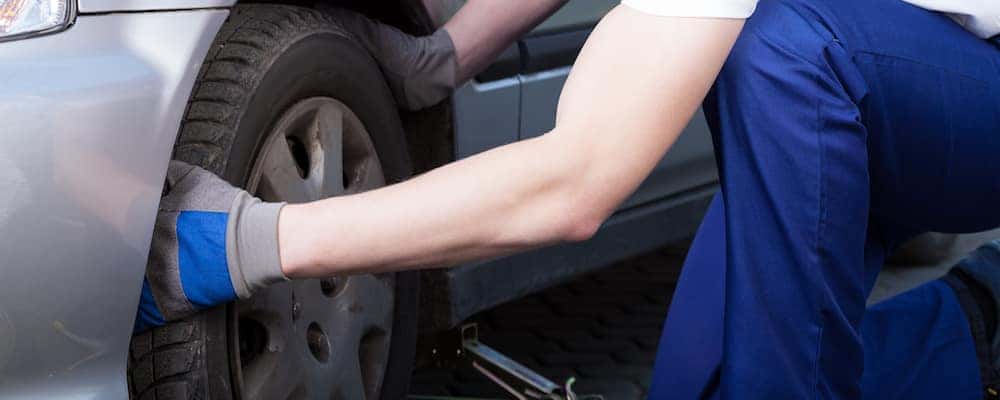 Like tire pressure monitoring, tire rotation is essential for your Chrysler or Jeep car. Whether you bring your car to our service center or choose to carry out a tire rotation in your garage, it's important to know how it's completed. Below, learn how to do a tire rotation at home and how this service benefits your car.
Importance of Tire Rotation
Driving habits and road conditions cause uneven tire wearing. Turning causes the outer edges of the front tires to wear more quickly than the rear tires. Failing to rotate tires results in uneven tread wear, tire damage, and eventual tire failure. Knowing how often to rotate your tires will protect your investments in new tires by keeping them in good shape for longer.
How Often to Rotate Your Tires
The appropriate tire rotation interval depends on your car's drivetrain:
Front- and Rear-Wheel Drive: Every 5,000 to 7,500 miles
All-Wheel Drive: Every 3,000 to 5,000 miles
Of course, the numbers above are suggestions. For more specific recommendations, be sure to check your owner's manual or speak with a certified technician!
Tire Rotation Patterns
Front-Wheel Drive Tires: Move the front tires to the back — left front to left rear and right front to right rear. If you're moving the rear tires to the front, switch the right and left tire.
Rear-Wheel Drive Tires: Move the rear tires to the front in the same left/right positions. If you're moving the front tires to the rear, switch the right and left tire.
How to Rotate Tires at Home
Want to rotate your car's tires at home? You'll need a car jack, a lug nut wrench, and a set of jack stands. When you're ready, follow the steps below:
First things first — engage to the parking brake.
Use the lug nut wrench to loosen the lug nuts on each wheel. Don't remove the lug nuts completely — just loosen.
Use the car jack to elevate a wheel at a time and place a jack stand underneath.
Remove the tires and reposition them per the correct tread pattern for your vehicle. As you move from tire to tire, tighten the lug nuts as much as possible.
Lower the car and remove the jack stands. Take this opportunity to tighten the lug nuts even more, working in a star pattern.
Schedule a Tire Rotation at Myrtle Beach Chrysler Jeep in Myrtle Beach!
Would you prefer to have a professional handle a tire rotation for you? Myrtle Beach Chrysler Jeep's service team is here to help! Schedule an appointment at our service center, located near North Myrtle Beach and Surfside Beach! We're always offering service specials to help our customers save on routine maintenance. Need more DIY maintenance tips? Learn how to check your vehicle's coolant level, and find out how often you should be changing your oil!
More from Myrtle Beach Chrysler Jeep
The 2020 Jeep Compass is the perfect vehicle for all of life's rocky roads and terrains. Myrtle Beach drivers don't drive the same route, which is why we're taking you through the different Jeep Compass configurations to help you decide which 2020 Jeep Compass is the perfect fit for you. You can find all of our…

There's a trim for every North Myrtle Beach driver on the new 2020 Chrysler Pacifica. With seven trim levels and a hybrid option, the Pacifica is a versatile minivan perfect for your next vehicle. Learn more about available Chrysler Pacifica trim levels below, then browse our online Pacifica inventory to find your perfect match! View Pacifica InventoryContact…

The 2020 Jeep Cherokee offers seven trim levels, and each level has two configurations (4WD and AWD), except the Trailhawk®, which has one. That's thirteen distinct configurations for North Myrtle Beach car buyers to choose from. Explore our available Cherokee inventory online today or learn more about the Jeep Cherokee trim levels with our helpful guide. View…