Moonroof vs. Sunroof: What's the Difference?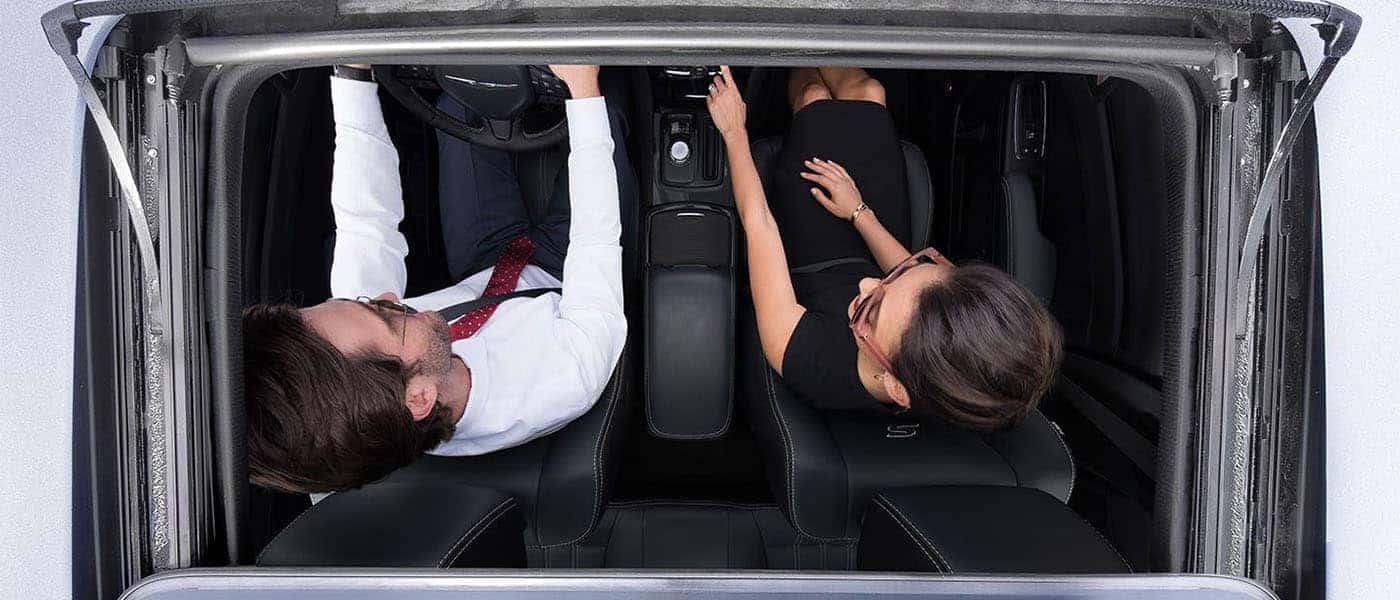 ---
We have many customers at Myrtle Beach Chrysler Jeep who come in asking, "What's the difference between a sunroof and moonroof?" If you want to know the difference between a sunroof and moonroof, then you've come to the right place! Now, many drivers often believe that these roofs are actually no different from one another, but that isn't the case.
A sunroof is a panel that's made of metal or glass and is installed into the roof of a vehicle. It can slide open or pop up in order to allow air and light into a car, SUV, or truck's cabin. A moonroof, on the other hand, is a clear or tinted glass paned that slides between the roof of a vehicle and its headliner, and can often be tilted open to let in fresh air. Both the sunroof and moonroof has the opportunity to make your vehicle feel more spacious and open when driving Conway streets.
What Are Panoramic Roof Systems?
While there's already an inherent difference between sunroof and moonroof amenities, there are also different types of each, including spoiler, inbuilt, pop-up, solar, removable, top-mount, electric, and electronic varieties. That's a lot of different roofs! Of these, the most popular is likely the panoramic kind, which is often offered as an upgrade on many middle-class sedans and SUVs, and even a standard feature for many luxury cars. These come with multiple panels in the roof that are operable or fixed, allowing both rear and front-seat passengers to open their panel to let sunshine and air inside. The panoramic roof system is perfect for enjoying all the great weather here in Myrtle Beach.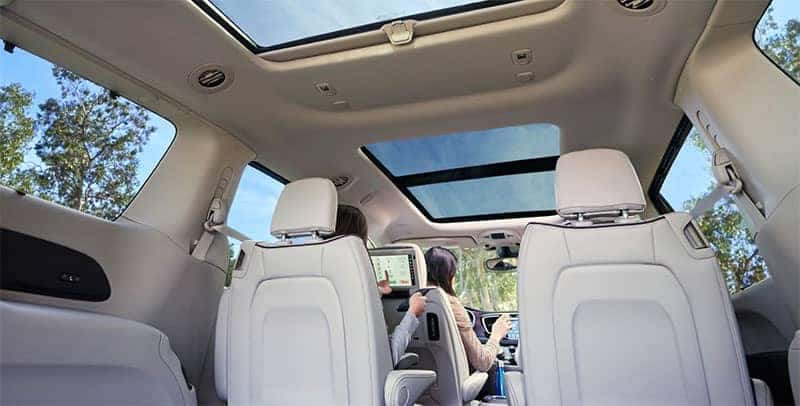 Used Vehicles with a Sunroof or Moonroof
When you come to Myrtle Beach Chrysler Jeep, you won't just find new vehicles with these great amenities! You can also find pre-owned cars, SUVs, trucks, and minivans in our used inventory that feature a moonroof, sunroof, or panoramic roof. For price-conscious buyers in Georgetown, this is a great option. Here are some sunroof and moonroof-capable cars you should look out for:
Acura: Acura offers their MDX, RDX, TLX, and TSX models with power moonroofs.
Chevrolet:For Chevy, you may find an Equinox with a panoramic sunroof or a Suburban with a sunroof, and each is a superb choice.
Honda: A used Honda model in our inventory may have a moonroof if it's an Accord, CR-V, Pilot, Odyssey, Civic, or Ridgeline model.
Lexus: As for Lexus, the ES, LX, GX, and RX models all can be equipped with a power tilt/slide moonroof, and you may just find one in our pre-owned inventory!
Mercedes-Benz: Being one of the world's most beloved luxury automakers, you shouldn't be surprised to find out many Mercedes-Benz models offer drivers with a power tilt/slide sunroof. Models in the C-Class, E-Class, and S-Class of Mercedes-Benz have these luxury amenities.
Toyota: When it comes to Toyota models, you may find a moonroof or sunroof on the Land Cruiser, Highlander, or Rav4. The Toyota Camry can also be equipped with a 2-panel moonroof, so check out our inventory and see if there's one for you!
Find a Quality Used Car with a Moonroof in Myrtle Beach!
Think you want a car, truck, SUV, or minivan featuring a moonroof or sunroof? Well, take a look at our available new and used car inventories and see if we have any models that you like at the moment. Contact us for more information on other special car features, and be sure to schedule a test drive with the sunroof or moonroof-capable vehicle you want!
More From Myrtle Beach Chrysler Jeep
A properly equipped 2-door Wrangler can tow up to 2,000 pounds — but how much can a Jeep Wrangler tow if you opt for a 4-door Wrangler Unlimited? In that case, the Wrangler towing capacity jumps to 3,500 pounds! The 2020 Jeep Wrangler also comes with a range of other standard and available towing features,…

Are you looking to spruce up your Jeep Wrangler? You're not the only one. Unlike most off-road vehicles, Jeeps are made to be customized to their owners' preferences. Because of that, there is a suite of accessories available at Myrtle Beach Chrysler Jeep that will make your Jeep more comfortable and capable. Learn more about customizing your Jeep…

Minivans are the new "in" vehicles! Not only are they versatile and modern, but customers in the Conway area know that the 2020 Chrysler Pacifica is a vehicle that offers supreme performance and maximum comfort. If you're wondering, "how much can the Pacifica tow?" Myrtle Beach Chrysler Jeep is here to answer that! Allow Myrtle Beach Chrysler Jeep to guide you…