Why is My Car Leaking Water?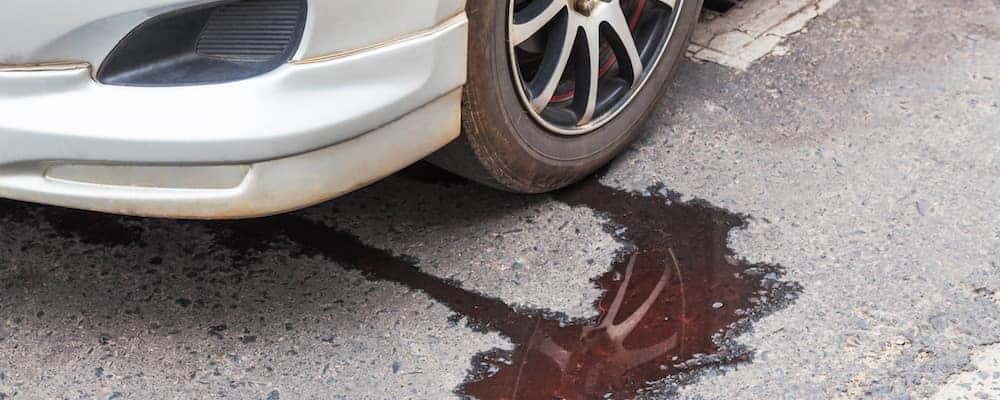 The good news is a car leaking water is normal. Your car's air conditioning system creates condensation while it's running — and in sunny SC, it's par for the course. This causes puddles of water to form toward the back of the engine compartment. Water near the tailpipe can be attributed to exhaust condensation, which usually dissipates as the muffler heats. Fluid leaks, however, are a different story and mean it's time to visit an authorized Chrysler, Jeep service center for an inspection.
Causes of Water Leaking from Under Cars
Take the following steps to find the origin of the water leak:
Examine the color of the fluid by placing a sheet of paper under the leak. If it's clear, it's water. If it's yellow, green, or blue, it's likely coolant.
If you believe the leaking fluid is coolant, check the coolant level. If it's low, bring your vehicle in for a top-off and inspection.
You may be dealing with a blown gasket if your exhaust system is leaking large quantities of water. Schedule a service appointment at Myrtle Beach Chrysler Jeep near Conway, and we'll address the problem!
If the cause is anything other than condensation, visit Myrtle Beach Chrysler Jeep near North Myrtle Beach for expert advice.
Identify Leaking Car Fluid by Color
Going back to the sheet of paper test — if the fluid isn't clear, it isn't water. In this case, you have cause for concern. Refer to the following guide to find out which area of your car the fluid is coming from:
Red — Power Steering Fluid or Transmission Fluid
Orange — Radiator Coolant or Transmission Fluid
Yellow — Radiator Coolant
Green — Antifreeze from Water Pump, Hoses, or Radiator
Blue — Windshield Wiper Fluid
Dark Brown — Old Engine Oil or Brake Fluid
Light Brown — Gear Lubricant or Newer Engine Oil
Pink — Transmission Fluid or Power Steering Fluid
Rely on Myrtle Beach Chrysler Jeep for Service!
If you suspect your vehicle is leaking anything other than water, may now have a mold infestation, or you need help with your coolant levels, we're happy to help! Make the trip from Surfside Beach to speak with a technician or contact us online. While you're here, check out our guide on determining whether or not an extended warranty is right for you, as well as our blog on how to check coolant levels.
More from Myrtle Beach Chrysler Jeep
The good news is a car leaking water is normal. Your car's air conditioning system creates condensation while it's running — and in sunny SC, it's par for the course. This causes puddles of water to form toward the back of the engine compartment. Water near the tailpipe can be attributed to exhaust condensation, which…

If you've seen TPMS on your car's dash in your owner's manual, you may be wondering, "what does TPMS mean?" TPMS means tire pressure monitoring system. This system uses sensors to measure the air pressure inside your Jeep Cherokee's tires. If the tire pressure is too low, you'll be notified via lit and/or flashing lights….

Jeep vehicles, such as the Jeep Wrangler SUV, are designed for outdoor adventures. In fact, they're so cleverly designed that you can add and remove parts as necessary to make your driving experience more fun. For example, you may want to remove the doors while you off-road around Conway so you and your passengers can…