Financing with a Bank or Dealership: What's the Difference?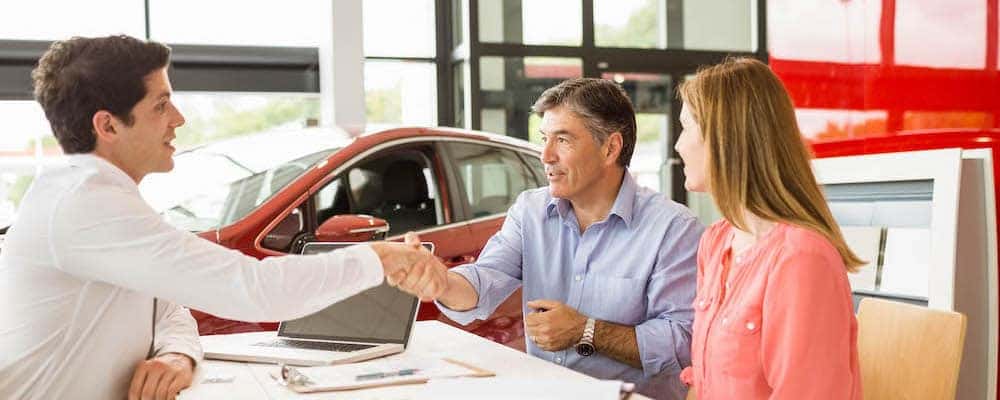 When you are shopping for a new vehicle in Conway or North Myrtle Beach, you'll want to make sure you are getting the best possible car loan. Where is the best place to get a car loan? Explore the pros and cons of bank loans and loans from a dealership to find out where to get a car loan that's right for you.
Car Loans From a Dealership
When car loan shopping, some say the best place to get auto financing is the certified dealership that you are buying your vehicle from. Below are some of the benefits to opting for an in-house loan at a Myrtle Beach dealer:
Dealerships work with a variety of lenders to get you the best rates possible.
Only fill out a single application form online to get multiple options.
Multiple lenders are competing for your business, which can lead to a better rate.
Some dealerships offer options for those who have bad credit or a low credit score.
The dealership may offer financing incentives.
You may be able to negotiate your down payment when financing with the dealership.
Car Loans From Your Bank
Your local bank is also a viable option for many drivers looking for an auto loan. Be sure to check with your dealership before applying at your bank is actually a good idea because each dealership has different financing partners. If you have a low credit score it may be harder to get approved for a bank loan, but there are benefits to choosing to finance at the bank:
You may have a pre-existing relationship with your bank
You might be able to benefit from set interest rates
You may be able to set a flexible payment schedule
Discuss Your Financing Options at Myrtle Beach Chrysler Jeep
When you are ready to schedule a test drive or have more of your car buying questions answered in Surfside Beach, contact Myrtle Beach Chrysler Jeep. Our experienced finance center staff can walk you through the auto loan process and help you get closer to purchasing your next car at Myrtle Beach Chrysler Jeep! While you're still here, we can answer other questions lingering on your mind, including helpful guides on what TPMS means as well as the difference between moonroofs and sunroofs.
Learn More at Myrtle Beach Chrysler Jeep
This one-of-a-kind minivan is here to show you that you don't have to sacrifice for plenty of spac and features. Whether you choose the FWD or AWD version of the Chrysler Pacifica, you're still getting great gas mileage. Conway drivers can look forward to an EPA-estimated 19 city and 28 highway Chrysler Pacifica mpg…

If taking on the off-road trails in South Carolina is your favorite way of spending your weekends, then you deserve a bold and capable vehicle for these adventures. The new Jeep Wrangler 4xe is an off-road-ready machine running on hybrid power that would make a great match to your Conway lifestyle. But what can…

Maybe you've noticed the new Grand Wagoneer and you're curious if it can tow your jet ski or motorcycle. How much can the 2023 Grand Wagoneer tow? The 2023 Grand Wagoneer towing capacity is a respectable 9,850 pounds. What can the 2023 Grand Wagoneer tow with that kind of towing capacity? More than you might…