Best Carolina Barbecue in Myrtle Beach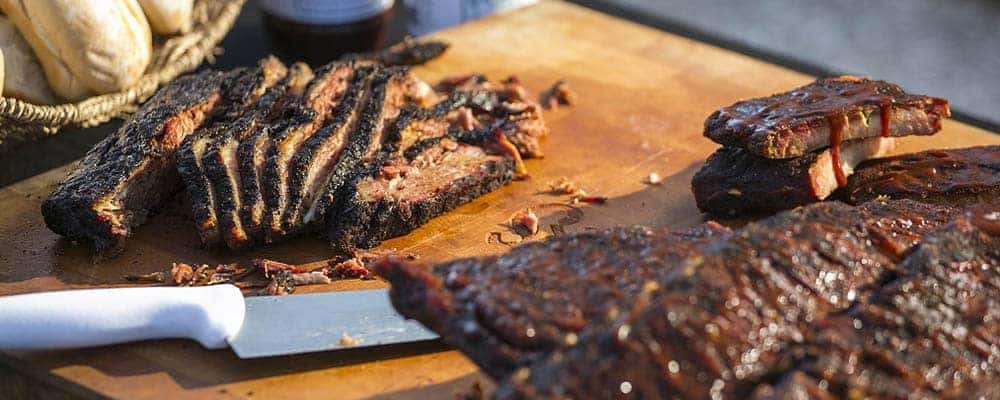 If there's one thing you can always find in the South, it's barbecue. And if you're in Conway or Surfside Beach, you'll have a lot of Carolina barbecue places to choose from. Do yourself a favor and stop in to any of the following best Carolina barbecue places in Myrtle Beach.
Pop Pop's Pit BBQ
This family-run barbecue joint off Highway 707 creates their signature barbecue from meat cooked low and slow. Pop Pop's Pit BBQ has been voted #1 restaurant and delivers generous portions and a variety of mouth-watering side dishes to choose from.
Little Pigs B-B-Q
If you want a quaint joint with delicious Carolina barbecue, then Little Pigs B-B-Q is the place to go. They keep things simple with paper plates and utensils, but you'll enjoy the menu choices.
Sticky Fingers
With a name like Sticky Fingers, it must have good barbecue. While known for their ribs, you can find a variety of menu items complete with Carolina barbecue. They encourage you to put the "pork on your fork", and that's what you'll do.
Explore these Restaurants with a New Chrysler or Jeep
The best way to explore Carolina barbecue in Myrtle Beach is with the right vehicle to get you to all the locations. Myrtle Beach Chrysler Jeep in Myrtle Beach has a nice selection of new models and a large number of used models to choose from. Contact us today to schedule your test drive. While you're here, you can also discover our favorite Myrtle Beach resorts, best Surfside Beach restaurants, the greatest family-friendly campgrounds, and the best things to do while you're in town.
---
Check Out Our Blog for More Fun Reads
The 2020 Jeep Compass is the perfect vehicle for all of life's rocky roads and terrains. Myrtle Beach drivers don't drive the same route, which is why we're taking you through the different Jeep Compass configurations to help you decide which 2020 Jeep Compass is the perfect fit for you. You can find all of our…

There's a trim for every North Myrtle Beach driver on the new 2020 Chrysler Pacifica. With seven trim levels and a hybrid option, the Pacifica is a versatile minivan perfect for your next vehicle. Learn more about available Chrysler Pacifica trim levels below, then browse our online Pacifica inventory to find your perfect match! View Pacifica InventoryContact…

The 2020 Jeep Cherokee offers seven trim levels, and each level has two configurations (4WD and AWD), except the Trailhawk®, which has one. That's thirteen distinct configurations for North Myrtle Beach car buyers to choose from. Explore our available Cherokee inventory online today or learn more about the Jeep Cherokee trim levels with our helpful guide. View…