Your Guide to Broadway at the Beach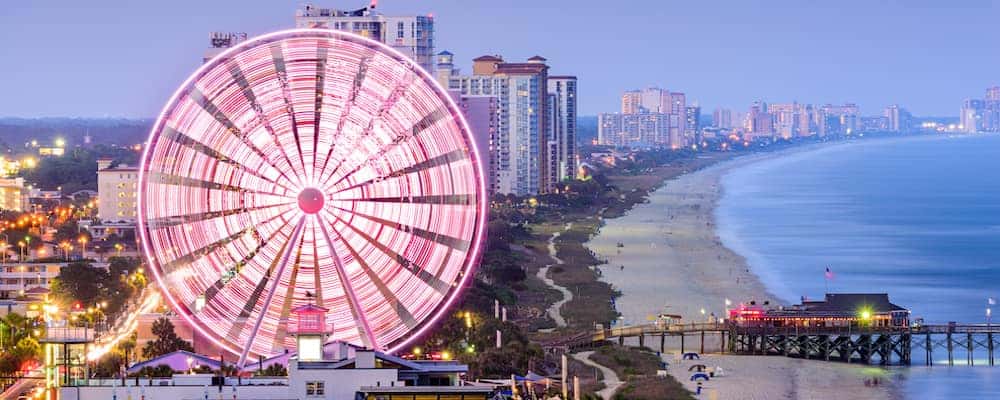 Located at 1325 Celebrity Circle — about 10 minutes from the Myrtle Beach Boardwalk — Broadway at the Beach is a shopping and entertainment center offering hours upon hours' worth of fun and activities. From specialty shops to delicious seafood restaurants to world-famous live shows, there's something for everyone to enjoy. If you're new to the area or are just visiting, learn how to make memories to last a lifetime in Myrtle Beach Chrysler Jeep's guide to Broadway at the Beach!
Shops
A Silver Shack: Sophisticated silver jewelry from all over the world.
Cariloha — Unique items made of bamboo.
Christmas at the Beach — Christmas decor year-round.
Earthbound Trading Company — Jewelry, home decor, apparel, and accessories.
Gemini Boutique — Trendy apparel and accessories boutique next to WonderWorks.
Hollywood Heroes & Villains — Memorabilia for comic book and cartoon enthusiasts.
Pepper Palace — Gourmet salsa, dips, and rubs, complete with a sample bar.
Savannah Bee Company — Wide selection of honey, raw honey, honeycomb, and body care products.
Sweet South Popcorn Company — Kettle corn popcorn, popcorn seasonings, cotton candy, and more.
Vintage House — Vintage gifts, souvenirs, and clothing.
Food & Drink
Entertainment & Attractions
Once you've explored Broadway's many shops and eateries, it's time for some entertainment! Legends in Concert is one of the complex's most famous spots — world-famous, in fact. Featuring a talented cast, this live tribute show includes five acts in one and portrays a variety of celebrities and musicians down to their mannerisms, hair, and garbs. Broadway Cinema is another great entertainment hub, offering more movie screens than any theater in or around Myrtle Beach. Other attractions include:
Ripley's Aquarium
Backstage Escape Games & Mirror Maze
Beach Rider Jet Boat
WonderWorks
Soar & Explore
Play Park
Pavillion Park
Old Tyme Portraits
Myrtle Waves Water Park
Myrtle Beach Pelicans
Interactive Fountain
Hollywood Wax Museum Entertainment Center
Helicopter Adventures
Dragon's Lair Fantasy Golf
Dinosaurs: The Exhibition
Broad Grand Prix
Learn More About the Area from Myrtle Beach Chrysler Jeep!
Myrtle Beach Chrysler Jeep is a trusted source for new Chrysler, Jeep vehicles, as well as suggestions for local events and happenings. Follow us for more things to do in Myrtle Beach, and don't hesitate to contact us with any questions!
More from Myrtle Beach Chrysler Jeep
Located at 1325 Celebrity Circle — about 10 minutes from the Myrtle Beach Boardwalk — Broadway at the Beach is a shopping and entertainment center offering hours upon hours' worth of fun and activities. From specialty shops to delicious seafood restaurants to world-famous live shows, there's something for everyone to enjoy. If you're new to the area…

Photo Credit: "Sticky Fingers by Steve Young on https://www.stickyfingers.com/gallery/" Apply for Financing Broadway at the Beach If there's one thing you can always find in the South, it's barbecue. And if you're in Conway or Surfside Beach, you'll have a lot of Carolina barbecue places to choose from. Do yourself a favor and stop in to…