How Often Should You Rotate Your Tires?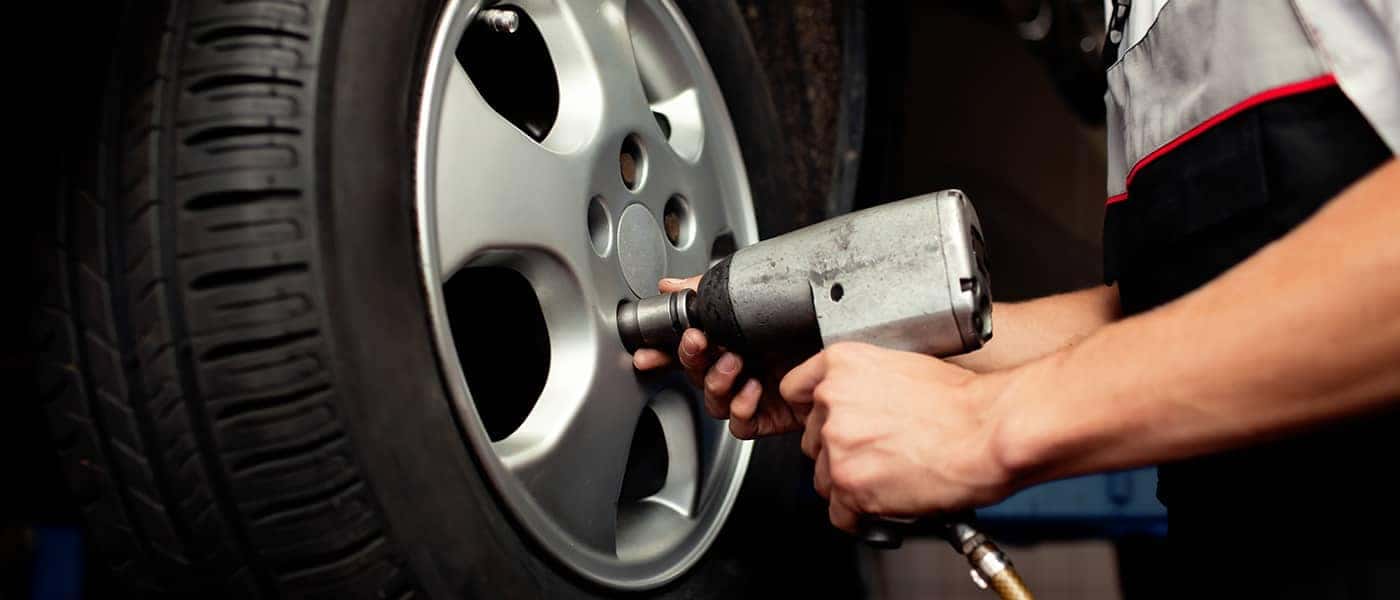 ---
One aspect of proper vehicle maintenance is tire care, which includes the rotation or your tires. This is a process that should be done about every 5,000 to 7,500 miles, although more specific figures can be found in your vehicle's owner's manual. Want to know more about why you should rotate your tires? Continue below where the experts here at Myrtle Beach Chrysler Jeep will walk you through the different aspects to tire rotations.
Rotating Tires on FWD and RWD Vehicles
The difference between front-wheel drive vehicles and rear-wheel drive ones is that the power from the engine is sent to different parts of the car. It's simple, really, since FWD vehicles get their power sent to the front wheels, whereas it's the opposite for RWD vehicles. What this means is that your vehicle's tires will typically take on varying amounts of wear-and-tear depending on which drivetrain you have equipped. If you own and drive a vehicle equipped with front- or rear-wheel drive, then here are some helpful tire rotation tips to keep in mind:
Like stated above, 5,000 to 7,500 miles is the right amount before you should expect to rotate your tires. And again, for a more vehicle-specific number, you can always check your owner's manual.
If you have a vehicle with FWD, and are performing the tire change yourself, you'll want to rotate your back tires by flipping sides as well. What we mean is, if you take the tire from the back right, you'll want to place it in the front left wheel. Same with the back left tire going to the front right wheel. However, the front wheels should stay on their respective sides, but move to the back wheels. For RWD vehicles, you'll do the reverse.
Depending on the driving conditions, you may need to rotate your tires more often. If you do a lot of off-road driving then it's smart to take your vehicle to a service center to get a better idea of how often you should rotate your tires.
AWD Tire Rotation Tips
If you have a vehicle with all-wheel drive, then you'll likely have to change your tires more often. The common rule for AWD vehicles is 3,000 to 5,000 miles. Again, you should check with the owner's manual for your specific car to be certain how many miles is recommended. If you think you need a tire rotation, you can always check the treads yourself, or schedule a service appointment and bring your vehicle to our service department.
Why Rotate Tires?
The simple answer to this question is that rotating your tires helps to elongate the lifespan of your tires. Rotating your tires on a consistent basis also provides these added benefits:
Less noise on the road
Relieves unnecessary stress on the drivetrain
Improved traction on slippery roads
Schedule a Tire Rotation Service with Myrtle Beach Chrysler Jeep today!
If you're still looking for further information on proper tire care, you can contact our service department. And if you think it's about time you rotated your vehicle's tires, schedule an appointment and visit our Myrtle Beach dealership today! We're conveniently located just a short drive from Conway and North Myrtle Beach.
Our Service Specials
We are currently updating our Service Specials. Please check back soon.
More From Myrtle Beach Chrysler Jeep
A properly equipped 2-door Wrangler can tow up to 2,000 pounds — but how much can a Jeep Wrangler tow if you opt for a 4-door Wrangler Unlimited? In that case, the Wrangler towing capacity jumps to 3,500 pounds! The 2020 Jeep Wrangler also comes with a range of other standard and available towing features,…

Are you looking to spruce up your Jeep Wrangler? You're not the only one. Unlike most off-road vehicles, Jeeps are made to be customized to their owners' preferences. Because of that, there is a suite of accessories available at Myrtle Beach Chrysler Jeep that will make your Jeep more comfortable and capable. Learn more about customizing your Jeep…

Minivans are the new "in" vehicles! Not only are they versatile and modern, but customers in the Conway area know that the 2020 Chrysler Pacifica is a vehicle that offers supreme performance and maximum comfort. If you're wondering, "how much can the Pacifica tow?" Myrtle Beach Chrysler Jeep is here to answer that! Allow Myrtle Beach Chrysler Jeep to guide you…